Red Deer cyclists plan cross-country journey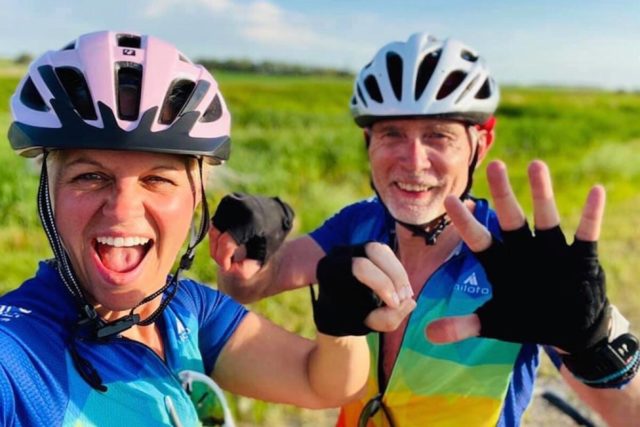 On Canada Day, a Red Deer couple will start a 10,000-km journey across Canada on a tandem bike to raise money to build a school and 100 homes in Indonesia.
The earthquake-resistant structures will be built out of blocks made from recycled plastic waste co-ordinated by classroomofhope.org.
JB Owen, who started Ignite Publishing in 2019, said online proceeds from books, and money raised during the 10-week road trip with her husband Peter Giesin, will help people in Indonesia still recovering from natural disasters.
"As a publishing house, we're so committed to literacy. When we saw that Classroom of Hope was building schools we knew that we could make a big impact on kids," Owen said.
It will be the couple's third cycling campaign to raise money for charity.
Related Article:

Red Deer tandem cycling couple ride 6,000 km to raise money for Cambodia school
While cycling from Vancouver to Newfoundland, the couple will travel with a crew to film a documentary on Canadians they meet along the way. A book is also planned.
"While we're cycling, we meet the most amazing people. There's so many people who are doing big things and they're not really being noticed, but they're making an impact on humanity. I want to showcase that in our documentary because I want to restore the way people see each other."
She said now more than ever, people need to connect with each other and there's nothing that brings people together more than sharing stories.
"Stories have been told since the beginning of time. Stories unite us. Stories transcend barriers. It really is about igniting possibilities in people's minds. If we're all living what's possible for us, we can absolutely have a better future for everyone of us."
A documentary will also be made along the way about Parks Canada sites across the country.
Owen said cycling is a wonderful way to see Canada which is a really incredible place.
"When you see Canada from on a bike versus through a windshield, it's phenomenal. We had bears 10 feet away, the buffalo, the caribou, the eagles that fly along side of us."
For more information visit igniteyoulife.life.