JB Owen, Fast Becoming the World Top Female Transformational Leader, Ignites Others During Women's History Month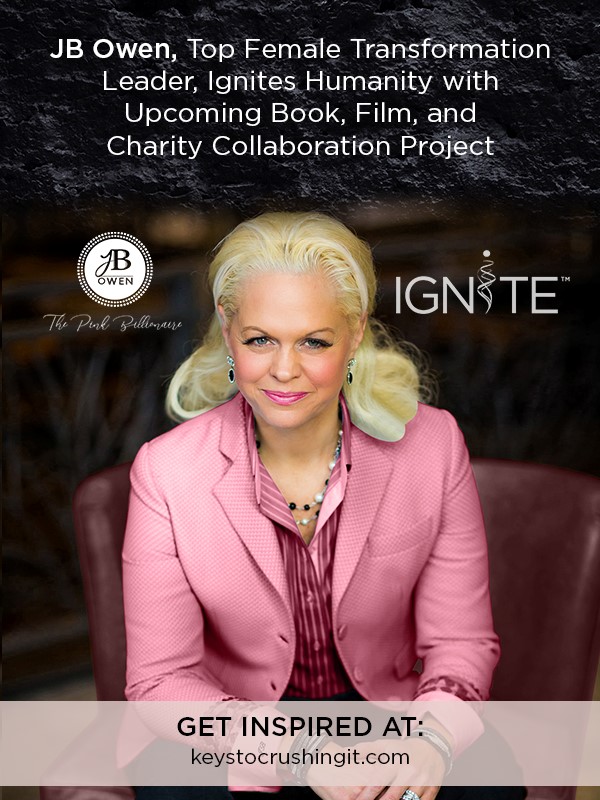 JB Owen, entrepreneur, bestselling author, mentor, speaker, and CEO of Ignite Publishing, has spent the month of March showing the world the power and excitement of being a woman in business. Ignite, the leader in empowerment publishing, has been focused on celebrating womanhood and the stories of remarkable women around the globe. Owen's work has always focused on platforms that give women the opportunity to rise, empower themselves, and make their deepest desires possible. By launching life-changing books, building a global community, raising funds for a school in Cambodia, and mentoring entrepreneurs to build legacies, JB Owen will soon become the top female transformational leader on the planet.
Ignite rereleased their first book in the Ignite series, Ignite Your Life for Women, on March 21st. Originally published in May of 2019, Ignite Your Life for Women became an international bestseller in nine countries and eleven categories. The book focuses on the life stories of 35 female authors and gives insight into how they overcame hardships only to emerge triumphant and greater than before. Their life stories are a testament to the strength and feminine power that all women embody. The new edition features updated author information, additional downloadable content, and a gorgeous new cover.
JB Owen's driving force behind rereleasing Ignite Your Life for Women is for women to feel empowered and motivated to succeed. Women worldwide innately desire to connect with others who can relate to their narratives. An Ignite Moment is that pivotal, eye-opening realization you experience in your life that sets you on a brand new path towards transformation. It can come to you through a challenge or hardship, a unique experience for growth, or an unexpected change in your life's direction.
Every Ignite Moment in the book was shared by the author, hoping that their story would inspire the reader to feel the same inspiration, motivation, empowerment, and transformation that they did. These stories' raw, impactful emotions Ignite self-reflection and a desire to jump in the driver's seat of your life and steer yourself to success. Get your copy of Ignite Your Life for Women at https://www.amazon.com/Ignite-Your-Life-Women-Thirty-two-ebook/dp/B09VTBL9GM.
To celebrate this spectacular relaunch, JB Owen is giving away a special gift for free so that anyone can get a slice of the wisdom shared in these stories. Created so that you too can feel empowered, the Ignite Your Life for Women 35 Action Steps eBook is a must-have for every woman. It includes life-changing, practical, and thought-provoking advice that you can start applying to their life today to seize the day and work towards your goals. Learn how to unlock your potential, find true inner fulfillment, shift your perspective, awaken a new part of you destined to succeed, and discover 35 unique insights from 35 authors! Get your copy of the free eBook here at https://women.igniteyou.life.
In addition to books, Owen took the digital stage as a keynote speaker at the Power of a Woman: Ignite Your Life for Women Summit. Alongside other impactful talks by Forbes Riley, Dame Doria Cordova, Les Brown, and more, JB shared a powerful message about what it means to be a woman in these times and how women around the world can empower and encourage themselves to dream big.
In her keynote speech, she shares,
"Women are sensational in every facet. We have sensational qualities about us as women. We're profoundly emotional, and we're creative. We're inspiring, and we're nurturing. We love collaboration, and we love to bring people together. Yet, for so long, we've been following the role models of men. For a long time, I tried to have that male, masculine energy in business until I really stepped into the power of the feminine."
JB Owen is also known as The Pink Billionaire and loves to embrace her feminine power. Owen believes that an amazing combination as a female leader includes being fierce, feminine, fabulous, and fun. She encourages female leaders around the world to embrace the feminine and, at the same time, be willing to find that fabulous and powerful desire to bring forth change for women today and future generations. Owen's story and words of empowerment are inspiring to hear. Her mission as the Pink Billionaire is to show people that "feminine" and "powerful" go hand in hand.
JB Owen was also named one of the 9 Powerful Women Entrepreneurs That Are Making This World A Better Place in Business Innovators Magazine. https://businessinnovatorsmagazine.com/celebrating-womens-history-month-by-focusing-on-9-powerful-women-entrepreneurs-who-are-making-this-world-a-better-place-today.
Owen's work takes an approach that includes creating a win for every person involved, from company to client to consumer. One of her main focuses is turning authors into "Authorpreneurs" and Igniting their business through authentic storytelling. The article recently featured in Business Innovators Magazine talks about her incredible charity work with the Ignite Possibilities School of Hope and Homes for Hope initiatives, which raises funds to build homes and schools for those in need in Southeast Asia.
Owen has partnered with three other female-owned publishing houses in Bali, the United States, and Australia in the spirit of women's empowerment and creative collaboration. With Owen in Canada, this becomes the first-ever global collaboration where four women in the exact same industry will come together to create four books. This collaboration will be a year-long project to empower and promote the next round of female influencers and changemakers. Owen believes that more women need to be doing business together and that collaboration is the new currency for success.
Coming up for JB Owen after Women's Month is an exciting new book, documentary, and docuseries project that focuses on bringing the world together to inspire and empower everyone. This project, called Ignite Humanity™, will catalog the diverse and impactful insights on humanity and the light we can bring into the world. The purpose of this project is to create a global community of inspired people working toward an incredible, inclusive, and hopeful vision of the future of humanity.
With 19 compilation books under her belt in the Ignite Series and two solo books of her own, Letter For My Mother and Enjoying Parenting, Owen is a true advocate of telling your story and building a unique brand that reflects your journey is taken and the road you have traveled. Not afraid of traveling herself or letting the current pandemic stop her, Owen and her husband Peter Giesen cycled 5000km on their tandem bike across Canada in 2020 to Ignite Possibilities in others. They raised money for the Sunshine Foundation of Canada that year. In 2021, the duo cycled 6500km north to the Top of the World Highway in the Yukon, raising money for the Ignite Possibilities School of Hope. This year the pair will cycle 10,000km from Vancouver, British Columbia, to St John's, Newfoundland, to raise awareness and film the Ignite Humanity™ documentary. Owen is looking for women who are making an impact on the planet and want to share their stories both in the upcoming book and film production. She knows that so many people are making a difference and moving the needle in a positive direction, and she wants to showcase them. If you are Igniting your community or making a significant impact in the lives of others, learn more about the project; go to https://humanity.igniteyou.life.
As Women's Month nears its end, JB Owen wants to share with the world that women are strong, amazing, and powerful people every month of the year. As a proud female businesswoman and leader, emphasizing the importance of women's empowerment and embracing femininity is a year-round purpose for Owen. Connection, collaboration, grace, and self-care encompass the many facets of being a female business owner, wife, mother, sister, daughter, and friend. Women are the foundation of the next generation, and we need to work together, find our greatness, and Ignite the planet individually and collectively.
A special thank you to the authors of the second edition of Ignite Your Life for Women, who bravely and compassionately shared their transformational stories:
Lisa Nichols
Stacey Yates Sellar
Heather Kerr
Jenni Walke
Andrea Reindl
Lourdes Aldanondo
Jade Green
Catherine Malli-Dawson
Suzanne Hall
Helle Brodie
Shannon Silvermoon
Karyn Kerr Pettigrew
Katarina Amadora
Dr. Judy Gianni
Valentine Owen
Shirley Whing Chow
Rosalyn Palmer
Vivien Hunt
Angela Legh
Marnie Tarzia
Alex Jarvis
Phyllis Roberto
Trish Mrakawa
Astuti Martosudirdjo
Jennifer Monaghan
Georgia Vanderville
Deepanjali Sapkota
Susanne Rodriguez
Taranum Khan
Cynthia V. Morgan
Carol Benson
Joanna Mercado Peters
Annie Lebrun
This article is sponsored by Lotus Liners. https://lotusliners.com. Lotus Liners are the most stylish, fashionable, and environmentally friendly washable, reusable feminine hygiene product on the planet. Made of premium, high-quality hypogenic fabrics, Lotus Liners are super comfortable, super absorbent, and super chic. Lotus Liners celebrate women and aim to make them feel confident and comfortable during their menstrual cycle.