Authority Presswire-Ignite Publishing, JB Owen, And Les Brown Prepare To Launch Their Latest Book, Ignite The Hunger In You, And Raise Money For Charity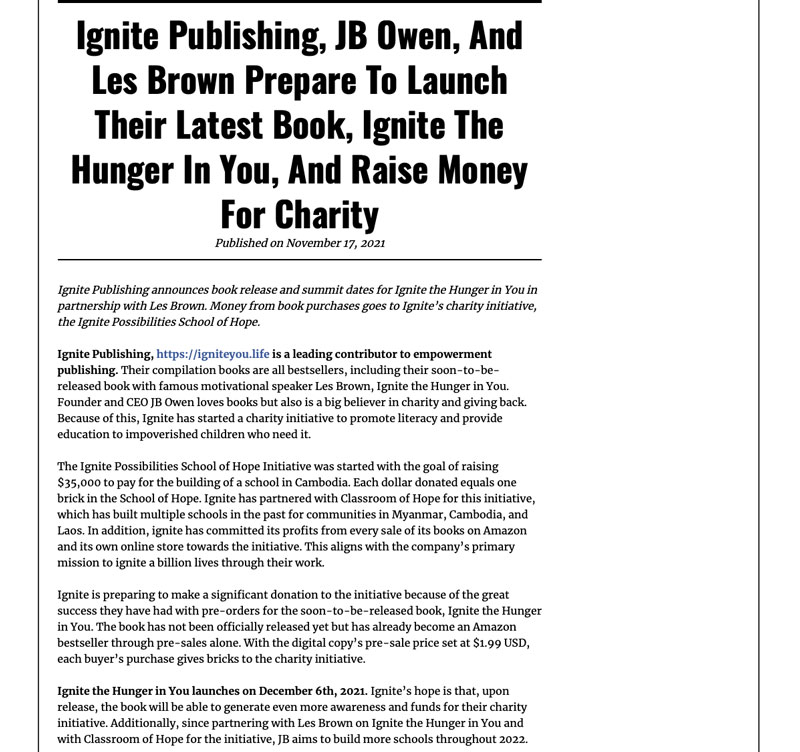 Ignite Publishing announces book release and summit dates for Ignite the Hunger in You in partnership with Les Brown. Money from book purchases goes to Ignite's charity initiative, the Ignite Possibilities School of Hope.
Ignite Publishing, https://igniteyou.life is a leading contributor to empowerment publishing. Their compilation books are all bestsellers, including their soon-to-be-released book with famous motivational speaker Les Brown, Ignite the Hunger in You. Founder and CEO JB Owen loves books but also is a big believer in charity and giving back. Because of this, Ignite has started a charity initiative to promote literacy and provide education to impoverished children who need it.
The Ignite Possibilities School of Hope Initiative was started with the goal of raising $35,000 to pay for the building of a school in Cambodia. Each dollar donated equals one brick in the School of Hope. Ignite has partnered with Classroom of Hope for this initiative, which has built multiple schools in the past for communities in Myanmar, Cambodia, and Laos. In addition, ignite has committed its profits from every sale of its books on Amazon and its own online store towards the initiative. This aligns with the company's primary mission to ignite a billion lives through their work.
Ignite is preparing to make a significant donation to the initiative because of the great success they have had with pre-orders for the soon-to-be-released book, Ignite the Hunger in You. The book has not been officially released yet but has already become an Amazon bestseller through pre-sales alone. With the digital copy's pre-sale price set at $1.99 USD, each buyer's purchase gives bricks to the charity initiative.
Ignite the Hunger in You launches on December 6th, 2021. Ignite's hope is that, upon release, the book will be able to generate even more awareness and funds for their charity initiative. Additionally, since partnering with Les Brown on Ignite the Hunger in You and with Classroom of Hope for the initiative, JB aims to build more schools throughout 2022.
Ignite the Hunger in You is a compilation book featuring over 35 authors who share their stories within their own individual chapters. Every story is focused on the idea of igniting your inner hunger and is meant to inspire, motivate, and uplift readers. Each chapter ends with actionable advice and wisdom readers can take away with them.
Coinciding with the book's launch, Ignite Publishing, JB Owen, and Les Brown is also hosting the Ignite the Hunger in You Summit virtually from December 9th-11th, 2021. All the authors involved in the book will be speaking, as will Owen and Brown. Ignite is offering free general admission and running a contest to win coaching with Owen and Brown. The three-day summit will feature nearly 24 hours of inspirational speaking events.
With the book launch and summit coming in December, Ignite has refocused on how their upcoming projects can work in tandem with their charity initiative to empower others and raise money.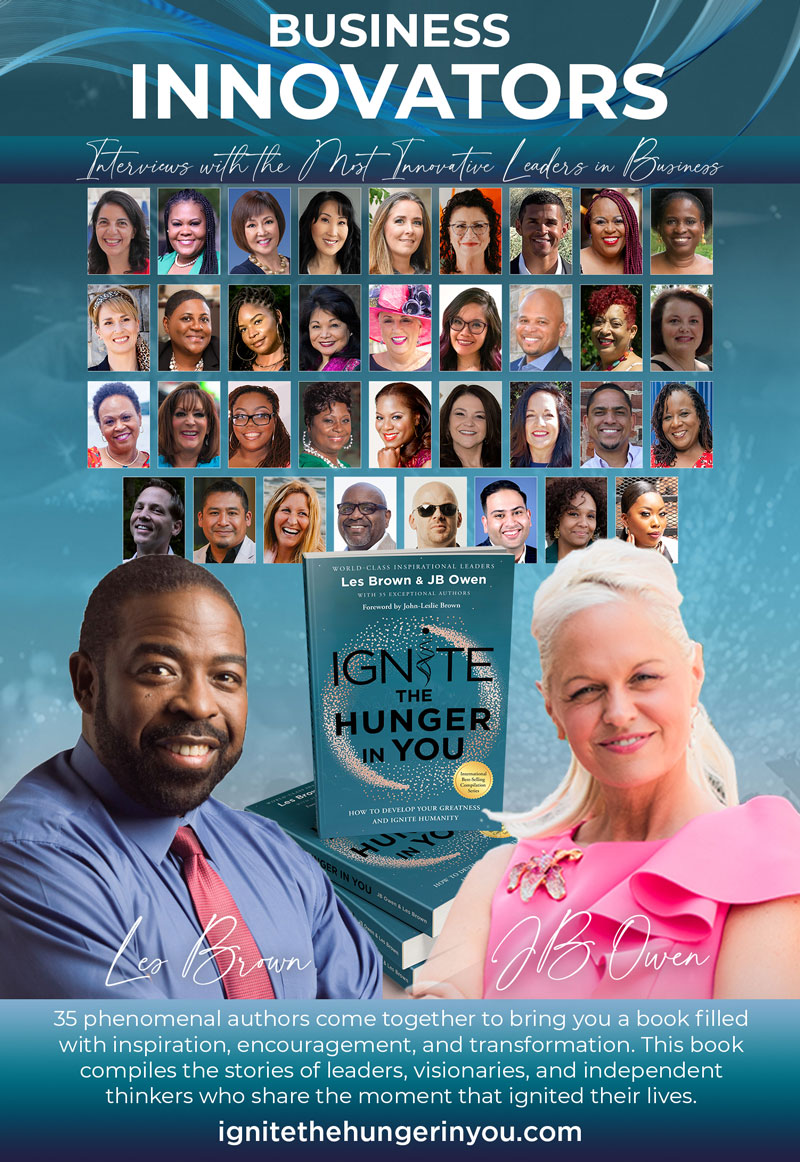 JB Owen, Founder, and CEO of Ignite, introduces "Ignite The Hunger In You" book by saying, "I know wholeheartedly that each story in this book was written to profoundly impact you. I also know that Les Brown's inspirational messages will speak directly to your heart and awaken something new inside of you. This book is filled with a kaleidoscope of love, hope, motivation, ideas, encouragement, and all the things you need to step into the greatness of your life. To quote Les, "We each have the talent to take us past the circumstances and challenges life brings to propel us into our greatness. Instead of giving in to the challenges and difficulties in life and asking yourself, 'Why me?' embrace the enormous possibilities and proclaim, 'Why not me?' You have everything you need to be exactly who you want to be, and it is with great affection we present an awe-inspiring book designed to help you do just that. So step into your greatness and Ignite the Hunger in You!"
MEET SOME OF THE AUTHORS…
• Les Brown – The Beauty in Accepting Your Greatness
• JB Owen – Get up, Transform, and Ignite!
• Rachel Harvey – A Chance to be Fearless
• Glenn Lundy – You Take Yourself Wherever You Go
• Pat Labez – Mom, Are You Okay?
• Chad E. Foster – From Victim to Visionary
• Renee L. Cunningham – The Polished Stones
• Curtis Ghee – Uncuff Your Potential
• Pamela Bishop – Six of Everything
• Steph Elliott – Being 'Good'
• Jessica T. Moore – Girl, Fix Your Crown!
• Diana Lockett – Harvest the Gold in the Grief
• Jocelyn McClure – Beautiful, Brutal Truth
• Dr. Raolee – The Journey of a Sickle Cell Gladiator
• Atul Bhatara – The Spark Within
• Susan Welton – Love Shouldn't Have to Hurt
• Jo Dee Baer – From Tummy Ache to Transcendent Health
• Ermos Erotocritou – Unleashing My True Potential
• Ashley Patterson – The Power of Prayer
• Dr. Yasmine Saad – Giving YOU Your Greatest Voice
• Suzanne A. Nakano – Living Life in Radiant Bloom
• Stacie Shifflett – The End of Me
• Jacki Semerau Tait – The Four Dollar Story
• Jameela Allen – Persevering to My Own Cadence
• Dr. Tyra Good – I Am That #GOOD
• Nik Reyno – Before I Knew It
• Holly H. Kalua, RN – The Pink Carnation
• Jenise 'Sandy' Todd – Deliver Me from Myself
• Ashley Montgomery – Girl… You Were Created for This
• Pearlette Cassells – The Patient in Room D4
• Erasmo Rivera – Speaking Confidence
• Katherine Vrastak – Screaming Silently
• Patricia Barnes – 'Speaking French' and Being Heard
• Felecia Froe, M.D. – Doing Well and Doing Good
• Shashonee L. Sales – The 48 Hour Miracle
• Marcy Cody, RN – Walk Now, Or Use A Walker Later
• Maynard Neal – Brokering For My Freedom
"IT'S YOUR TIME to Learn from a Legend. Attend the Ignite the Hunger in You Summit. The Summit that Supersedes all Summits. They are giving all who attend what no one else is giving- a copy of the book, plus thousands of dollars in other valuable tools, resources, and services. So if you love Les Brown, you'll love this summit filled with outstanding individuals he has trained."
For more information visit, https://www.ignitethehungerinyou.com or enter the contest at mentorwithles.com.