Authority Presswire-JB Owen, Founder, And CEO Of Ignite Publishing, Shares How She Built A Business That Ignites Lives And Uplifts Humanity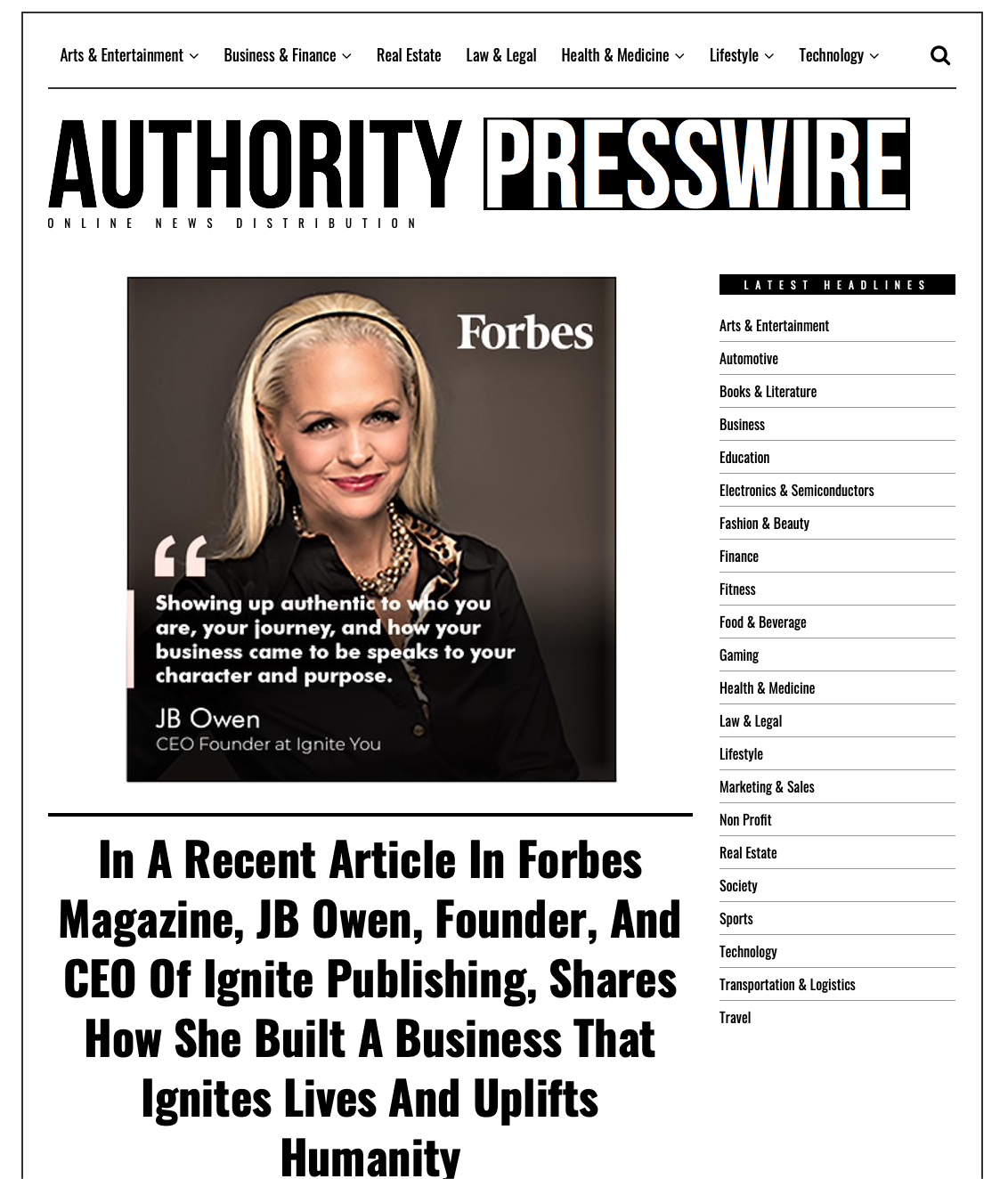 JB's dream is to ignite the lives of others. She believes helping authors share their stories ignites the world, providing education to children who need it, and showing others how to realize possibilities and achieve their dreams ignites the world.
JB Owen, the Founder, and CEO of Ignite Publishing, https://igniteyou.life, a book publishing company she created in 2018, believed that stories bring people together and ignite moments. JB helps to transform writers into business owners by showing them how to become "Authorpreneurs" and ignite their business through authentic storytelling. Helping to create books that push us forward and strive for something more life-changing is the goal.
When Ignite Publishing was founded, an ambitious goal was set: to ignite a billion lives through their content. Everything they have done since has been a way of working towards this goal, whether through their bestselling books, charity initiatives, or any of their additional resources like training courses, writing workshops, and speaking summits. But what does it mean to 'ignite,' exactly? Well, at Ignite Publishing, it means to create a spark of inspiration and motivation within someone, to give them a push towards changing their lives for the better. And, once ignited, to be the place they keep returning to for empowering content.
Two years and 17 bestsellers later, Ignite has established itself as not just a successful business. Still, one with its core values rooted in how it can help others recognize and reach for all the fantastic possibilities in the world. In fact, possibility has become an important word at Ignite. For JB, one of her main messages is that anything is possible; you just have to start believing you can achieve what you want. JB's other work also centers on this. She is a proud female entrepreneur, speaker, trainer, mentor, and coach. In addition, she's an expert in business and personal development, with the goal of teaching others how they can succeed.
Ignite Publishing's main charity endeavor is their Ignite Possibilities School of Hope initiative in partnership with Classroom of Hope. Ignite has been raising money through a number of channels to build a school in Cambodia. This school will allow children from rural and impoverished communities to have access to education. JB Owen is very passionate about providing education to youth worldwide because she has a strong belief that when you inspire the new generation, you improve humanity. As a publishing house, Ignite also knows the power of storytelling and that it all starts by promoting literacy within communities. Ignite and JB Owen dream of providing a school with a library where children can read the words of our world's best thought leaders, inspiring the next generation to make their mark. Classroom of Hope, who Ignite is partnering with on this initiative, pairs with local partners to build schools, which also provides opportunities for local businesses to flourish.
Ignite Publishing has set up their business in an exciting way so that all the money made from their compilation books goes to the Ignite Possibilities School of Hope. JB Owen and Ignite co-founder Peter Giesin also embarked on their second summer-long cycling trip this summer to raise money for the School of Hope. The trips also aligned with Ignite's message of possibilities, showing just how much you can accomplish when you put your mind to something! For both trips combined, the two cycled over 11,000km for charity. Every dollar raised through book sales and fundraising initiatives like the cycling trips equals one brick in the school. Ignite's goal is to donate 35,000 bricks to the school.
On the publishing side of things, Ignite has paired up with some legendary people to create their latest compilation books. The most recent book they are preparing to launch, Ignite the Hunger in You, collaborates with one of the most famous and renowned motivational speakers on the planet, Les Brown. https://www.ignitethehungerinyou.com
The book focuses on hunger, the inner drive everyone has within them to achieve their goals and find their passion. Each chapter contains an author's story, featuring their ignite moment, a moment that changed them and set them on a new path in life. These true stories have been designed to uplift, inspire, and transform readers. The book has already become an Amazon Bestseller through pre-orders alone, and it releases December 6th, 2021. All the proceeds from this book will also be going toward the School of Hope in Cambodia. With the eBook version's pre-sale price of $1.99 US, each pre-order equals two bricks in the school.
That isn't all Ignite has in the works with Les Brown. The two are pairing up again with all the authors featured in Ignite the Hunger in You to present a three-day, jam-packed summit full of inspirational and transformational talks called the Ignite the Hunger in You Summit. Les has also started fundraising for a second school to be built in an area where children need access to education. Ignite and JB also have in the works a real estate compilation book with industry tycoons Ryan Serhant, David Meltzer, and Bryce McKinley called Keys to Crushing It. This is an exciting book about real estate, entrepreneurship, and carving your place in the market.
With a visionary outlook on business, empowerment, storytelling, and charity, Ignite is showing the world that you can make money, give money away, empower millions, and tell stories that change the world all at the same time. Ignite is envisioning a future of empowered, enlightened people who believe they can do anything and want to make the world a better place. They believe that we come closer to that amazing future with every dollar raised, every book published, and every person's life ignited.
When writers sign up to work with Ignite Publishing, they join a community and are in great company with other authors. The result is getting a book to market in a better, quicker, and more enjoyable journey.
Here are the four benefits of writing your story that was shared in Forbes Magazine.
Being authentic really attracts customers. People want to know the real you. Showing up authenticity to who you are, your journey, and how your business came to speak to your character and purpose. Customers value that and are more inclined to do business with people they feel they know.
Share lessons that move people forward. Not only does writing your story allow you to reflect on the progress you've made, but it also allows you to talk about the wisdom and the goodness that came from you working through your story. What you learned and how you implemented that learning will become valuable lessons to those you do business with.
Inspire others You have an opportunity to inspire others when you openly share your journey and demonstrate how you've survived challenges and overcame obstacles. When you show others how you navigated through unknown territory, you demonstrate how to help them achieve their own goals and aspirations. You show them the next steps they can take to start a new chapter in their lives and work towards bettering themselves.
Impact the world The impact your story can have on a person can transform them. It allows you to show them the next steps they can take to start a new chapter in their lives and work towards bettering themselves.
To read the complete article in Forbes Magazine online, go to https://www.forbes.com/sites/melissahouston/2021/11/09/how-this-heart-centred-publisher-builds-businesses-that-ignite-lives-and-uplift-humanity/?sh=26b653a96589
For more information about Ignite Publishing and JB's Journey to Ignite the world, visit https://jbowen.website.