Charity Cycling Duo, JB Owen & Peter Giesin Ride Through Their Home Province To Inspire Others, Celebrate Canadian Storytelling, and Film Documentary To ignite Humanity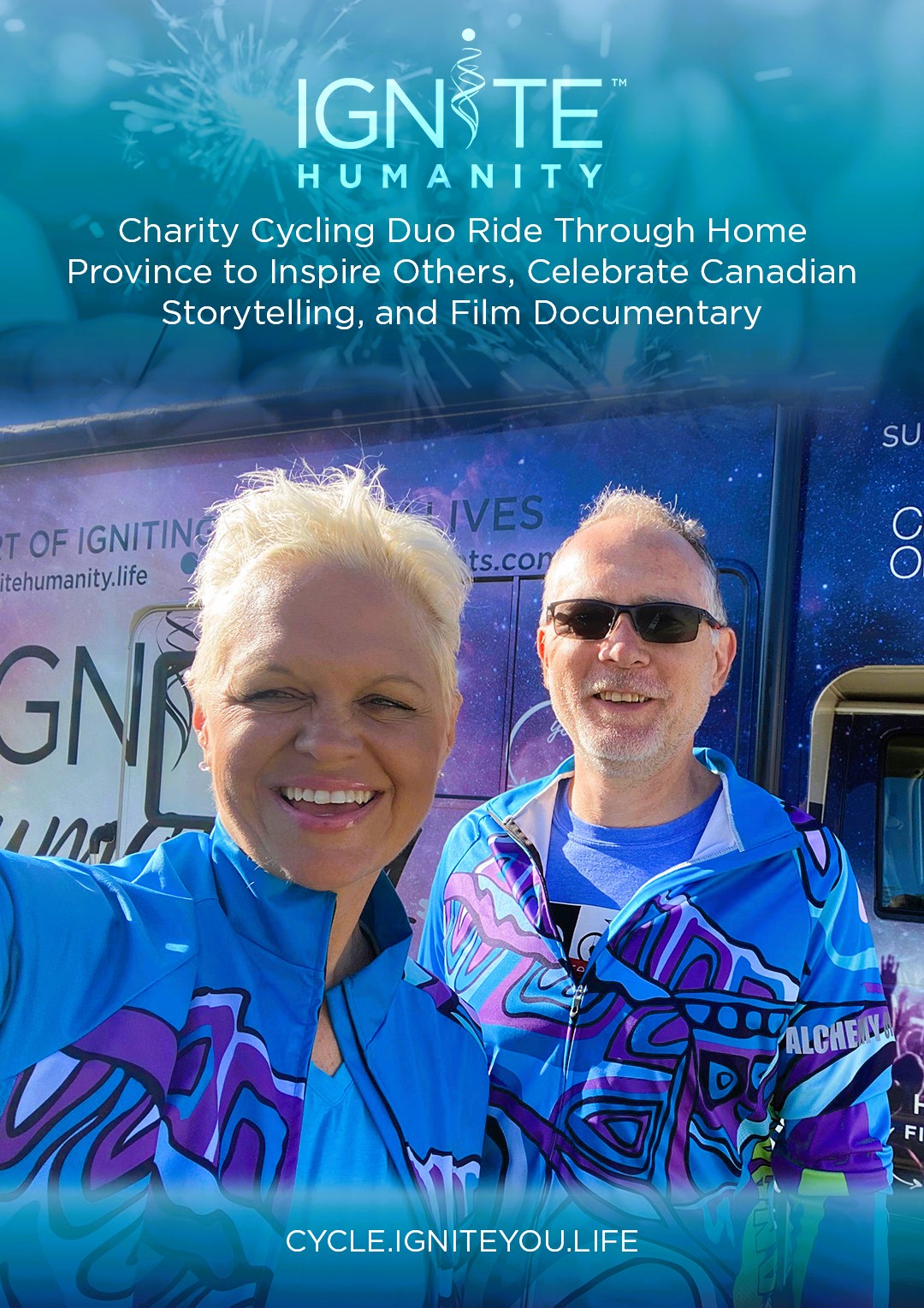 Filmmaker, publisher, and Canadian businesswoman JB Owen and husband Peter Giesin ride through Alberta on their 10,000km summer tandem cycling trip to film the Ignite Humanity documentary, which features Canadian stories, and to raise money to build a school in Indonesia.
JB Owen and Peter Giesin, Red Deer locals, are currently cycling through Alberta as part of their Ignite Humanity Cycling Tour. The two are thrilled to be cycling east through Alberta, making pit stops along the way as they feature local sights and people in the Ignite Humanity documentary. JB Owen was born and raised in Alberta and lives in Red Deer with Peter and the rest of their family. As a proud Albertan, Owen is thrilled to be featuring Alberta in her documentary. The two are making stops in Canmore, Calgary, Red Deer, and Drumheller on their adventure to film the documentary and encourage others to support their charity initiative.
On July 1st, the cycling team and married couple departed from Vancouver, embarking on their 10,000km coast-to-coast cycling journey that will take them all the way across the country to St. John's, Newfoundland. This is the third year of devoting their summer to a cycling trip that seeks to inspire others, ignite humanity, and raise money for charity. While they do this, the Ignite team will film their journey and showcase the people they connect with on their trip by featuring them in the upcoming Ignite Humanity documentary.
The duo recently visited Canmore, home to Alchemy of Ride, owned by artist Lynn Harrison. Alchemy of Ride is an outdoor apparel company that creates limited runs of quality clothing like cycling gear and cold weather wear featuring Harrison's original artwork. The company has generously sponsored JB and Peter, who has been sporting the company's clothes throughout the entirety of their trip.
In Canmore, they filmed a segment with Lynn and showcased the uniquely Canadian designs Alchemy of Ride creates, which often feature local landscapes including the Three Sisters peak. JB Owen shares, "We have a lot of pride and joy wearing such colorful clothes that represent this country and Alberta as we cycle across Canada." Lately, JB and Peter have been proudly sporting the Three Sisters design, the Looking South design, and many others on camera in their documentary to unite humanity through connective storytelling.
In Calgary, the two chronicled their stop at the Bow Cycle shop, where they took their tandem bike in for repairs. The shop let them know the aluminum frame had cracked and they couldn't repair it. Bow Cycle is the store the two originally bought their tandem bike from three years ago, so it was only fitting that the next part of their cycling adventure would be on a new bike from the same shop. According to Owen, "The bike shop said that we are lucky to be alive. Reaching top speeds of 81-94km/h on our bike, if it had buckled we would not be here." The two were very thankful to the people at the shop who worked so hard to try to save their beloved bike.
JB Owen was thrilled to arrive in Calgary despite the issues with the bike. As a native Albertan from Red Deer, she has always considered Calgary to be a second home for her. As a child, she always enjoyed attending the Calgary Stampede with her family. The couple cycled out of the Rockies and through Calgary on Monday, July 18th, 2022, where they enjoyed the lingering excitement and local festivities from the Stampede, which ended only a day before their arrival. On the new bike, the two bid farewell to this great city and all the kind, helpful people who helped them get back up and running there.
After Calgary, the team had the chance for a few days of rest back home in Red Deer. The two saw the rest of their family and enjoyed being back in their hometown. There, they attended the Westerner Days Parade, held for the first time since the start of the pandemic in 2019. "It was a pleasure to be home and see the return of a beloved town tradition," JB shared. The pair also had the opportunity to meet with the local media and share their mission. Afterward, the team hit the road once again, continuing their adventure through beautiful Alberta.
Their next stop was Drumheller, where they went to visit Tyra, the world's largest dinosaur. The pair had previously visited the dinosaur on their 2020 cycling trip, and JB shared, "It felt like seeing an old friend." The two reminisced about their two prior summer cycling trips, which also sought to raise money for charity. JB feels a kinship to the dinosaur, as the money made from the attraction goes right back into the community. "It's a pinnacle to giving back to your community and uplifting the people around you," said JB Owen.
The two hosted a "Gatherama" in Drumheller, where friends and Ignite Publishing authors were invited to celebrate with JB and Peter. JB captured footage from this gathering of Canadian storytellers, as many in attendance had shared their own powerful, personal stories in previous Ignite Publishing books.
JB Owen runs Red Deer-based Ignite Publishing, the leader in empowerment publishing. Empowering and inspiring others is something that is very important to JB and Peter in everything they do. Their desire is to heal the world through storytelling and inspire the hearts and minds of those who discover the stories they share.
Their cycling trips began with their personal desire to get out and do something that would take them on a new adventure and challenge their fitness. The two realized they were turning their dream— an ambitious 5,000km trip that first year in 2020— into something achievable. They knew if their goal was possible for them, others could reach their dreams too. That is where the idea of possibilities came from and the duo aims to show others that, as JB Owen says, "anything and everything is possible." They want everyone in Alberta and all of Canada to know that their dreams are possible too and they are thrilled to be cycling through this beautiful province on their adventure.
JB Owen will also be filming their journey and making stops along the way to show inspiring people and communities across the country for her documentary, Ignite Humanity. The documentary aims to catalog the diverse and impactful insights every person has on humanity and the light we can bring into the world. It will also document JB and Peter's epic 10,000km cycling trip.
JB Owen, who was knighted last month for her entrepreneurial and philanthropic contributions to humanity, shares about the Ignite Humanity project, "Ignite Humanity was born out of a desire to showcase the bright light that is in humanity and remind us that we can come together and make a better global future for all." The documentary is filming in Canada now, but will eventually shoot in India to meet the Dalai Lama, in Indonesia to unveil the School of Hope, and the US for their IgniteX speaking event.
Later this summer, JB will be speaking at the United Nations on the power of Igniting Humanity and that when we share our authentic stories, we connect on a deeper level that will end wars, eliminate racism, restore connections, and heal hearts.
As they cycle, the couple is raising money for the Ignite Possibilities School of Hope initiative, an initiative JB and Ignite Publishing created in partnership with the nonprofit organization Classroom of Hope. The initiative raises money to build a School of Hope in Indonesia, where rural and impoverished children will be given the gift of education. This charity initiative, which has become the heart of these cycling trips, seeks to raise $35,000. This covers the costs of building a brand new school in Indonesia.
During this cycling trip, JB and Peter aim to get even closer to their fundraising goal, as this charity initiative is near and dear to the hearts of JB and the entire Ignite Publishing team. As a book publisher and storyteller, providing children with the ability to gain literacy and other important skills while empowering them to be the masters of their own stories is an honor to JB.
Here is the article published in Nonprofit News Now talking about raising money for their humanitarian project, https://nonprofitnewsnow.com/ignite-publishing-co-founders-jb-owen-and-peter-giesin-kick-off-their-10000km-coast-to-coast-cycling-trip-to-ignite-humanity-and-raise-money-for-charity.
JB shares about the initiative, "We want to promote literacy, reading, and storytelling. We want to provide a place for kids to learn, grow, and step into their greatest potential. Every child deserves access to education."
At this moment, Lady JB and Peter have crossed the border into Ontario, which sees them on the last third of their incredible journey! Lady JB and Peter will be passing through Thunder Bay and hosting a Gatherama at the Meadowvale Sports Park in Toronto this Sunday, July 31st at 10:00 am and will be shooting on location, as well as shooting on location at Niagara Falls on August 1st so if News Media Networks wish to set a time for a live interview, they would be delighted to coordinate a time to catch up and chat!
Please feel free to call JB at 250-864-3740 or contact their driver, Janine Marek at 403-896-4324.
For media requests, contact Tom Chesser, at [email protected], 210-289-5996.