Ignite Humanity cyclists make stop in Moose Jaw as part of 10,000 km cross-Canada journey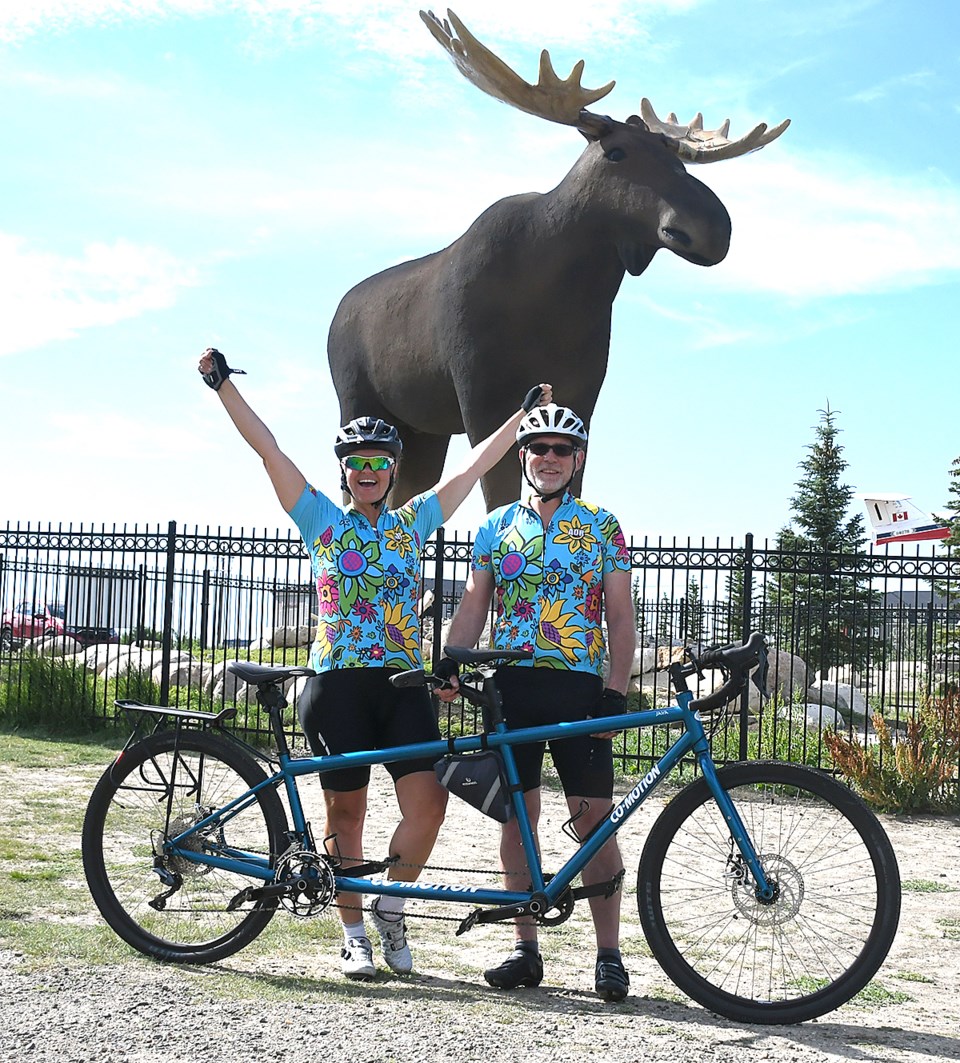 JB Owen and Peter Giesin riding tandem bike across the country as part of fundraising venture and special film documenting their travels. 
While most folks were enjoying the day off and celebrating the warm summer weather on Canada Day, JB Owen and Peter Giesin were preparing for the first step of the longest cycling journey of their lives.
The duo had ridden their tandem bike on fundraising ventures the past two summers, but this time, it was something even more special. The founders of Ignite Humanity were going cross-Canada, recording along the way for a documentary and raising funds for a school project in Indonesia.
All told, it would be 10,000 kilometres over 10 weeks, beginning in Vancouver and ending in St. Johns. The duo arrived in Moose Jaw on Thursday and planned to take a short break before heading back on the highway.
It might seem all pretty standard fare for people making a cross-Canada journey, but this time around, there are some pretty lofty goals.
"Our thing is about meeting people along the way and connecting with people," Owen said. "What we find is that Canadians are so endearing, minutes after meeting people they make friends with us, they invite us to places, they offer us food, they tell us about great places to see… and even here with the Tunnels, I didn't even know they existed! So it's like this ripple effect, someone tells you about something and you go there and it's an amazing experience."
That's where the Ignite Humanity documentary project comes in. Through their hundreds of hours of video throughout the journey, the husband and wife team plan to tell as many stories as possible of the people they meet and the adventures along the way.
"We have four kids and three are at home and we were wondering 'what is their future, what's ahead for them' and I feel like I have the winning recipe to make us a better planet, and that's learning each other's stories," Owen said. "When you hear someone's story, you feel compassion and connected to them and closer to them and it creates a bond and a feeling that we've been missing the last two years… That's what we want to show in the movie, that humanity is amazing, people are empowering and inspiring and want to be friendly and communicate."
It hasn't been difficult going in that direction, either. Owen and Giesin have made themselves as approachable as possible, and hard to miss at that — the RV accompanying them on their journey and driven Janine Marek features a full Ignite Humanity wrap and a brilliant purple colour scheme that instantly attracts attention.
Folks have come up and knocked on the RV door just to see what they're all about, even making a donation once they've heard the story.
The duo plan to raise $35,000, with their Ignite Publishing company partnering with the Classroom of Hope initiative to construct the aforementioned school in Indonesia.
"Every dollar that gets donated is a brick, and they're made of plastic that gets pulled out of a landfill," Owen explained. "So we're really happy that we'll be building bricks that will build a school. And as a publishing house, we're really excited to be supporting a program that helps with education."
The medium they've chosen for their transportation is also unique. All 3,000 kilometres so far have been on a tandem bicycle, something that brings with it unique challenges that they feel are also crucial the whole experience.
"You have to be in tandem, you have to ride together, otherwise it doesn't work," Giesin explained. "We like to say it's a great relationship builder, because you have to be in complete synch with communication and how hard you pedal and how fast you pedal."
Giesin acts as the 'captain' in the front of the bike, Owen as the 'stoker' on the back seat. 
Where riding separate bicycles might mean varying amounts of distance between the two as they travel, the tandem cycle allows them to experience the entire journey together.
"We get to see life through our own lens," Owen said. "It's really special, actually, since we're really close we can talk to each other and we see can things like eagles together, the buffalo together and the bear on the side of the road… So it's just a special experience when you get to see life through your own eyes and not a screen or a windshield."
The beauty of nature live and right next to them certainly makes the long hours in the seat easier to deal with.
"It was kind of tough since we didn't have a lot of time to train with all the snow we had, and then it was off to Vancouver and into the mountains," Owen said. "But I will say, it was really beautiful to get into the Prairies, with the canola fields and the lavender fields and the landscape and the horizon and the beautiful skies, it was just really, really beautiful. And after so many weeks of climbing, it was so nice to get on a road where you can just go fast… but overall it's been a really beautiful and amazing trip."
And now, their journey continues, with more sights and sounds and the people of Canada ahead on their many miles on the road.
"And that's another big reason we want to do the movie," Owen added. "We want people to see the diversity that is in Canada, people often think Canada is just tundra, but there is just so much to see with cultures and people and the way we speak and the food we eat. We live in such an amazing country and we just want to be able to show some of it."
For much, much more on Owen and Giesin's journey, including details of their plans and their progress, be sure to visit their website at cycle.igniteyou.life.