Couple Riding Across Canada To Ignite Humanity Came Through Drumheller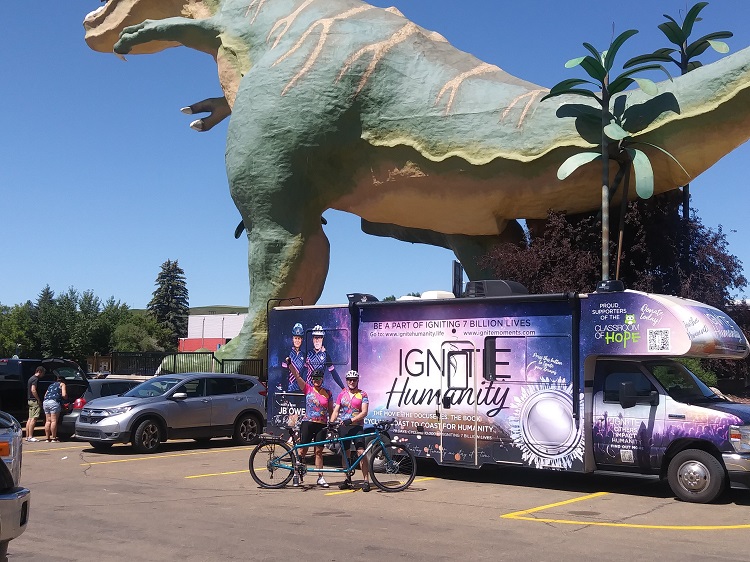 A couple from Red Deer are currently on a tour across the country to ignite and inspire, as they ride a tandem bike.
Lady JB Owen and Peter Giesen, who hail from Red Deer, have been travelling from Vancouver and are on their way to Newfoundland. On Thursday, July 21, they made a stop at the World's Largest Dinosaur in downtown Drumheller. As part of the tour, they are recording a documentary and thought Drumheller would be an important stop. "Because our movie is all about humanity, there's people from all over the world that are going to watch it," shares Owen. "We wanted to show something that was really indicative to Canada, something that is really special and that people from around the world wouldn't see, or wouldn't even expect. We thought we have to show people this wonderful little secret spot in Canada so they know what's here."
Other than the filming of their documentary, the fundraising portion of the journey is going towards the building of a new school in Indonesia. Owen notes that it is more than fundraising for a school. "We're publishers, and as publishers we feel like it's our responsibility to really focus on literacy and legacy. When COVID hit, and everybody was thinking about what they can't do, we started thinking about what we can do. We need to think about the future, we need to think about what's possible and what we're capable of. We really felt we have to show that, what's possible for people to ignite their lives, ignite humanity, and do the next thing." Giesen also notes that their core value is the power of the story. "Coming here and watching all the little kids, with the story of the dinosaur, just makes such a memory for them that they can then tell it to their kids.
As for their tour, they have started with the tougher terrain first by travelling through the mountains. Most other tours start on the East Coast and travel west. They also had to replace their tandem bicycle just before they arrived in Drumheller. The journey for them continues and as of this week they have made it to Winnipeg and are planning on being in Toronto by Sunday. The goal of the journey is to raise $35,000 for the school in Indonesia. To learn more on the tour, visit their website. To follow their journey through social media, visit their Facebook page