Lady JB Owen And Her Charity Initiative, Ignite Humanity, Receives $100,000 Donation From Traverse TV For School Of Hope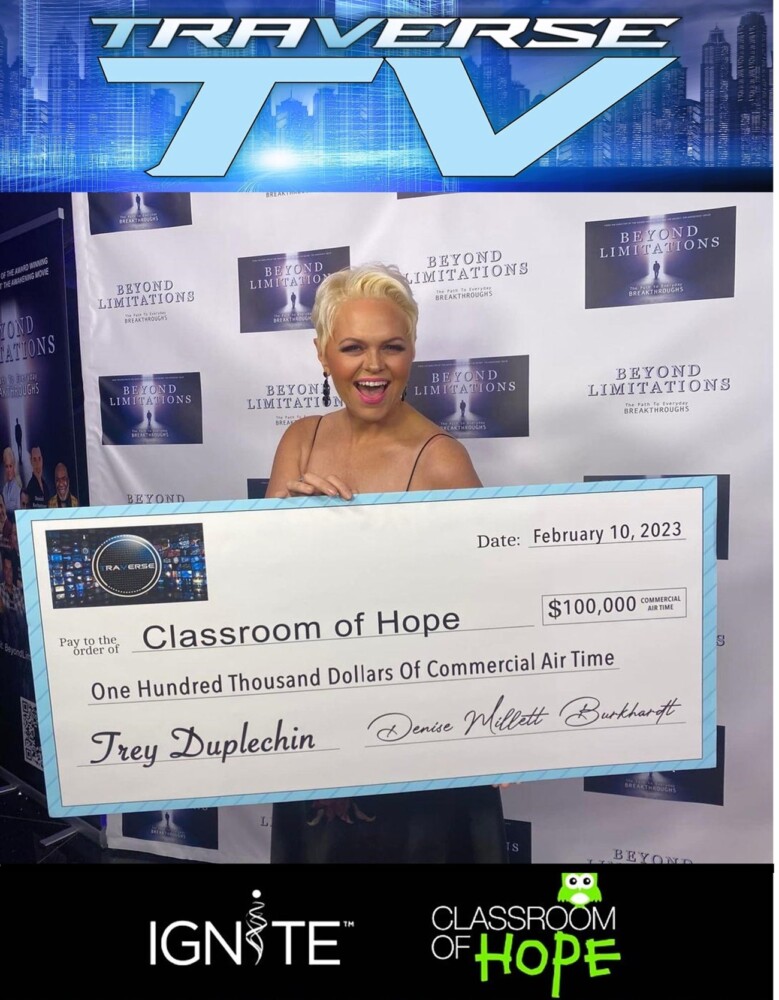 Published on March 10, 2023
JB Owen shares, "The way to Ignite Humanity is to Ignite what is possible in children's minds. We can do that by building schools and providing education and literacy.
On February 10th, 2023, Lady JB Owen, founder and CEO of Ignite You, Ignite Publishing, and Ignite Humanity, was given a $100,000 donation from Traverse TV for her Ignite Humanity School of Hope initiative in Indonesia. The donation was received at the Beyond Limitations movie premiere in California as Lady JB and her fellow castmates celebrated the release of their new documentary. The check was an incredible contribution to the School of Hope's mission to fund the building of schools in rural and impoverished areas so that children everywhere can have access to the education, literacy, and skills they need to thrive.
The $100,000 check represents $100,000 worth of air time on the Traverse TV network, which reaches millions of people across the globe with its diverse and empowering programming. Lady JB's show, Ignite Humanity Live, which brings guests to share the inspiring moments that shaped their dedication to uplifting the planet, airs every weekday at 11:00 am EST on the platform. This donation will allow the charity initiative to share its mission with millions, raise greater awareness for its cause, and attract donations from inspired viewers.
Owen's charity initiative, Ignite Humanity, was created in partnership with Classroom of Hope, an organization that has built schools for communities in need in Cambodia, Laos, Rwanda, Indonesia, and Myanmar. Together with Classroom of Hope, the goal of the Ignite Humanity School of Hope is to build schools made from "eco-bricks," recycled plastic bricks that rescue tons of plastic from polluting our oceans. Every dollar donated pays for one eco-brick in the school, and the School of Hope's fundraising goal of $35,000 for 35,000 bricks will provide enough material to build one school—the first of many planned by the initiative.
Over the past year, Owen has led several fundraising events for School of Hope, including cycling 10,000km across Canada in 2022 to raise money and, most recently, Bouquets of Hope, the initiative's Valentine's Day campaign. In 2021, she cycled 6,500km through Canada to Alaska, also raising funds. She shares, "We have so much more planned for the School of Hope, and we're excited to share our impact with the world through Traverse TV's generous donation."
Traverse TV's donation will allow the School of Hope to share its initiative with over 6 million viewers in 190 countries. Trey Duplechin and Denise Millett-Burkhardt of Traverse TV share that they are enthusiastic about the impact this airtime donation will make and support the School of Hope's goal that all children gain the inspiration and skills they deserve to Ignite Humanity.
JB said, "The School of Hope is part of Lady JB's movement to Ignite Humanity and bring people together for a better future. She believes that the one common denominator amongst us all is our stories and that when we open up with authenticity and create a space to share and listen to the stories of others, we can forge deeper connections and empower one another to make the world a better place."
The Ignite Humanity Movement is unveiling a number of wonderful projects this year. In January, the Ignite Humanity Live TV show launched to give viewers the tools and advice they need to go out and move the needle forward on humanity. Ignite Humanity is also thrilled to be soon launching the Ignite Humanity Live Magazine, housed on a new platform called The Legacy Library, where users can access a wide variety of personal development, business, and empowerment content. The Legacy Library also plans to begin donating books and magazines to schools around the world so young people can gain valuable skills in all areas of life.
Owen passionately states, "So many children are not able to gain business, interpersonal, and financial skills, nor embark on the rewarding journey of personal development, simply because they do not have access to the ideas, advice, and resources they need. The School of Hope and all the initiatives under Ignite Humanity will change that and allow them to Ignite their lives."
Discover more about Ignite Humanity at https://ignitehumanity.life, and see the impact of the School of Hope at https://igniteyou.life/possibilities-school-of-hope. People can also start watching Ignite Humanity Live on Traverse TV and the Ignite Humanity Live site.
Trey Duplechin and Denise Millett-Burkhardt of Traverse would like to give a big shout-out to Dr. Tom Chesser of Rise Up Media & Marketing for bringing Lady JB Owen to the network and playing a huge role in developing and promoting the platform.