Lady JB Owen, CEO & Founder of Ignite Humanity, Receives the Ignite Humanitarian Award at the 2022 Be Great! Humanitarian Awards in Anaheim, California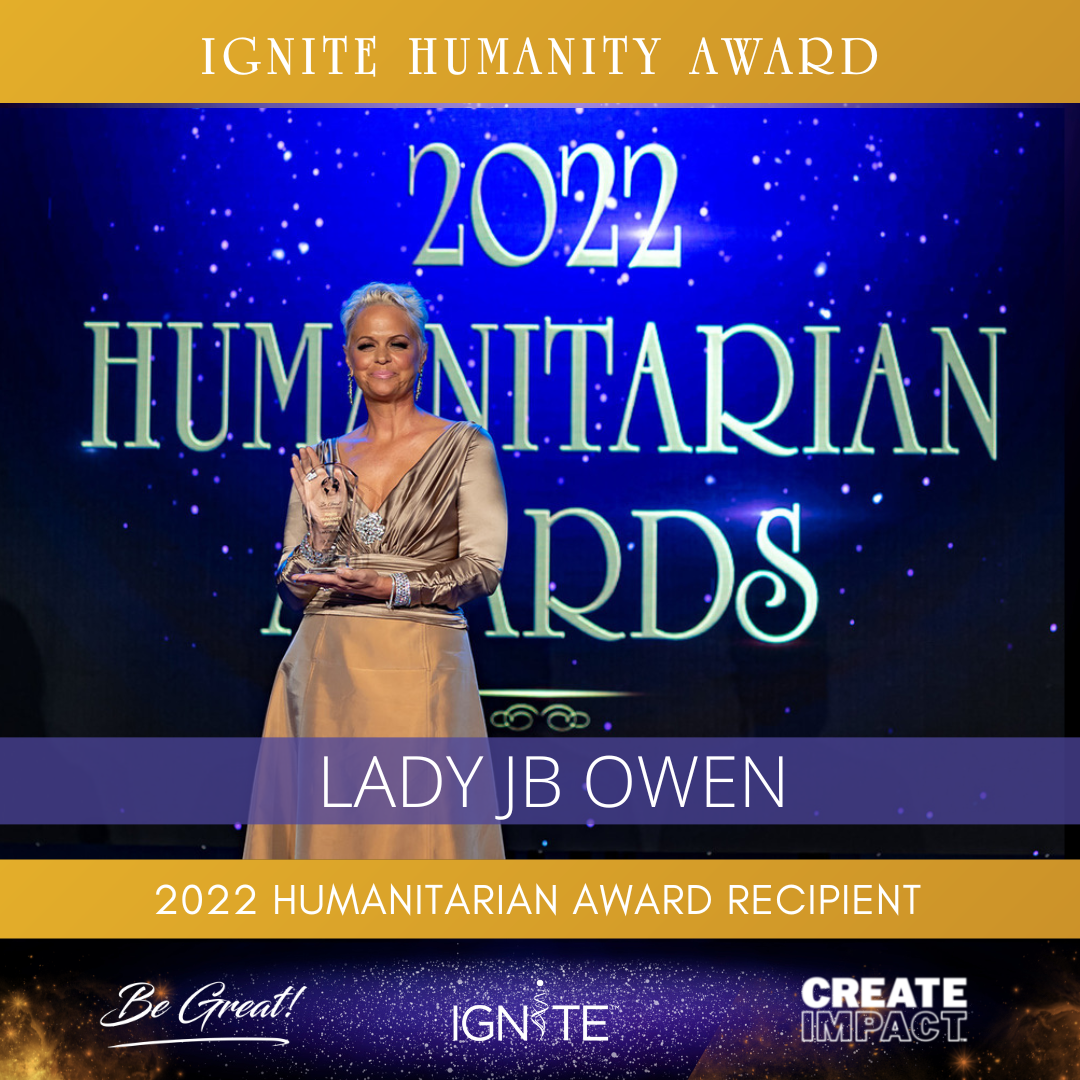 BY THE TRIBUNE EDITORIAL TEAM ON OCTOBER 11, 2022
On September 9th, 2022, Canadian entrepreneur, 22-time bestselling author, publisher, mentor, and founder of Ignite Publishing™, Lady JB Owen, was honored at the 2022 Be Great! Humanitarian Awards for her philanthropy and humanitarian contributions through her initiative, Ignite Humanity.
Produced by Create Impact and ​​Be Great!, the ceremony was held in the Grand Ballroom of the Anaheim Marriott Convention Center and honored 15 individuals for their humanitarian, philanthropy, and social impact work. These humanitarians came together to celebrate how each and every one of them has created a positive impact and a ripple effect in their communities. From a 13-year-old change-maker to celebrity actors, musicians, nonprofit founders, and socially conscious entrepreneurs, the award ceremony was filled with fantastic people from all different backgrounds. Each honoree exemplified the intention of "How can I help?" through their work. The atmosphere of the ceremony was one of celebration, excitement and love.
"It was utterly beautiful and heartfelt," JB Owen shared of the ceremony and meeting her fellow award winners. Award winners and their guests were welcomed to a VIP Red Carpet before the event with complimentary food & drinks, immersive activities, live music, and entertainment. The ceremony was opened with a collection of fantastic entertainment by a reunited cast of The 'All-New' Mickey Mouse Club with live music performances by En Vogue's Rhona Bennett, Tony Lucca (NBC's The Voice), The Party's Deedee Magno Hall & Chasen Hampton, and Lindsey Alley's hilarious multi-media show, "Blood, Sweat, and Mouseketears."
In addition to Owen, Honorees included Nika King (HBO's Euphoria & Founder of Rose of Sharon), Guillermo Díaz (Volunteer for C.A.R.E. Project), Leigh Steinberg (Founder of Steinberg Sports & Entertainment), Dr. Khalilah Caomacho-Ali (Humanitarian/Author), Karl Kani (Founder of Karl Kani), Ever Matson (13-year-old Founder of Child Hunger Sucks), Larry Namer (Founder of E! Entertainment), Emily Lartigue (Founder of Cast Member Pantry), Sir Alec Stern (Co-founder of Constant Contact), Jade Zaroff  (Founder of Entertainment For Change), Gavin Keilly (Founder of GBK Brand Bar), Eric Power (Founder/CEO of Veteran's Disability Help), Dr. Cyndi Romine (Founder & President of Called To Rescue), and Andy Arias (Founder of DC Universal Pride).
The 2022 award recipients were carefully selected from over 200 nominees and exemplify what it means to be a humanitarian. Among the honorees were founders of nonprofits, social ventures and social impact solutions that serve a variety of children, veterans, the environment, artists, the disabled, LGBTQIA, and other communities.  Previous Be Great! Humanitarian Award Recipients include James Dentley, (Founder of JD3 TV), Jeff Hoffman (Founder of Priceline.com, Booking.com, Chairman of Global Entrepreneurship Network, and Founder & CEO of World Youth Horizons), Pamela Landwirth (President & CEO of Give Kids The World), Kellen Jackley (Former Wish Kid & Current Child Ambassador, GKTW), and more.
During the event, guests could mingle and network and JB Owen was thrilled to see people making a tremendous difference and doing incredibly innovative things. Entrepreneur and Producer Moe Rock, the Founder of Conscious Parenting Katherine Sellery, retired UFC legend Frank Shamrock, and many others were in attendance, Dr. Greg Reid (Best-selling author, renowned speaker and Founder of Secret Knock) co-hosted the event alongside Be Great!'s Founder Bryan Gallinger. 
"I'm so grateful to all who showed up to support me," Lady JB Owen shared in regard to her guests (including authors from the Ignite community who support Ignite Humanity's mission to empower, inspire, and uplift every person on the planet) who traveled great distances to attend the event
Be Great!, which describes itself as "a social impact-based production company that spotlights individuals, events, and organizations who are advancing humanity and empowering the planet," is the organization behind the awards. They have selected a fantastic group of winners whose work is widespread across various critical social issues. By holding this annual award ceremony, everyone involved in the event, from winners to event planners to guests, has worked together to get the word out about these important initiatives, charities, and programs. 
To Lady JB Owen, raising awareness for what matters is powerful and meaningful and only amplified the excitement of receiving her award. She is grateful to be the Ignite Humanitarian and also to be able to highlight the great work of her fellow humanitarian award recipients. The 2022 Be Great! Humanitarian Awards was a night of celebration that uplifted and united change makers and humanitarians representing various necessary, essential initiatives. As the founder of Ignite Humanity, Lady JB Owen's mission continues to lift up every person on the planet through connective storytelling and empowerment. JB Owen's new title of Pioneer Humanitarian is an honor and a sign that growth and an even broader positive global impact are on the horizon for Ignite Humanity.
All people from all backgrounds and walks of life deserve to feel seen, heard, understood, and empowered. That starts with sharing and listening to those whose voices need to be heard. It begins with lifting up others and living compassionate lives. JB shares, "Humanity is incredible, and I see that every time I get up and go out into the world." Ignite Humanity aims to show people just how incredible humanity is and what is possible when we all come together and share our stories authentically. Ignite Humanity exemplifies what it means to be great and do more for others.
Lady JB Owen's mission, through Ignite Humanity, is to Ignite, impact, improve and inspire the lives of 7 billion people on this planet. With the initiative rooted in Ignite's publishing and storytelling work, JB Owen believes we can unite humanity by authentically and compassionately sharing personal stories so we can all understand each other better. Ignite Humanity asks others to imagine a world where we all truly understood each other and to think of all we could achieve if we openly listened and learned from one another.
Of her mission, Lady JB shared, "This mission is exhilarating and profound, and I can't say enough how important it feels to be doing the work that I love—telling stories, transforming lives, and making a difference on a global scale."
Upcoming projects from Ignite Humanity include a documentary that showcases people, communities, and initiatives that act as beacons of light for humanity, inspiring and innovating possibilities for future generations. Every changemaker in this project shares the intention to uplift people globally and to Ignite a better way. The documentary began filming on June 6th, covering JB Owen and her husband's recent 10,000km tandem cycling journey across Canada coast-to-coast and showcasing the stories of the people they met along the way. 
The documentary will feature individuals on screen sharing their powerful Ignite Moments and their perseverance, tenacity, and strength. They will be the moments that transformed them and helped them step into something bigger and better in their life. Accompanying the documentary is a book containing the written stories of those who are Igniting Humanity, whose words will inspire and empower others to be forces of positive change as well. 
Future filming for the documentary will be done in India, the United States, and Indonesia. In India, a select group will accompany JB to India for two weeks of cultural and spiritual exploration to be captured on screen. With multiple cities to be explored, incredible sights like the Taj Mahal and the Golden Temple, and local people to connect with, the trip is sure to be unforgettable. The highlight of the trip will be an audience with the Dalai Lama. Starting in 2023, Ignite Humanity and Be Great! Are joining forces to bring social impact solutions to various different categories Internationally. Ignite, Be Great! and JB are currently looking for more individuals, organizations and sponsors to join them on this trip to broaden minds, empower lives, and positively impact others globally. More details and the sign-up for the trip can be found here. 
In the United States, the crew will be filming IgniteX™ events in multiple cities where new talents in motivational speaking will showcase their Ignite Moments™ in impactful speeches on a grand stage. Speakers will share the wisdom and knowledge they have gained through their personal experiences to empower and Ignite those listening in person and in the documentary. At IgniteX, the goal of the events is to honor the power of storytelling and community by coming together and creating a phenomenal event where people feel seen, inspired, and Ignited. Ignite and JB Owen also believe that the documentary and IgniteX will share transformational stories that create messages of hope, inspiration, motivation, and more.
In Indonesia, the Ignite team and those who support the project will travel to the site of the first completed School of Hope to contribute to the school build and celebrate its opening with a ribbon-cutting ceremony. Ignite Humanity and the entire Ignite brand are passionate about philanthropy. In partnership with the nonprofit Classroom of Hope, JB Owen and Ignite created the Ignite Possibilities School of Hope charity initiative. This initiative seeks to raise money to fund the building of schools in Indonesia using eco-conscious materials. Each school will allow children in rural or impoverished areas to access safe education and gain the knowledge they deserve to empower themselves and lift up their families and communities. The ripple effect could change countless lives if one student becomes educated and a light for others. The eco-bricks that the buildings will be built out of will also rescue thousands of tons of plastic from rivers and the ocean surrounding Indonesia, which are some of the most polluted waters in the world. With a goal of building 20 schools in addition to 100 homes, Ignite's impact will reach thousands of students and families. The current build project is in Lombok, Indonesia to aid the city as they recover and rebuild following an earthquake. The end goal is to Ignite Humanity, starting with those who need it most. 
Of the initiative, Lady JB shares, "Each brick to us is a hope, a dream, or a possibility for these children. We aren't just constructing a building but a place of learning, safety, and empowerment. We're giving these children the tools to lift themselves and their community out of poverty."
This work is something that Lady JB Owen is incredibly proud of because not only will Igniting Humanity have a positive global effect, but it speaks to the heart of the purpose behind all that Ignite does as a company that is focused on empowering its clients, customers, readers, and communities. Sharing this mission with other Be Great! Humanitarian Awards honorees, according to Owen, was an incredible experience. "It was powerful to be in a room surrounded by all of these caring, driven, and passionate people who whole-heartedly have made it their mission to help those in need," Lady JB shared—learning more about the impactful work they are also doing reminded them of the importance of doing more for others.
Discover more about Ignite Humanity, Lady JB Owen, and Be Great! Awards using the links below:
Ignite Humanity: https://ignitehumanity.life/
Lady JB Owen: https://jbowen.website/ 
Be Great: https://begreatshow.com/
Create Impact: https://www.createimpact.org/begreat2022