2022 Humanitarian Awards Produced By Be Great! Will Create Impact By Honoring Philanthropists Through Social Impact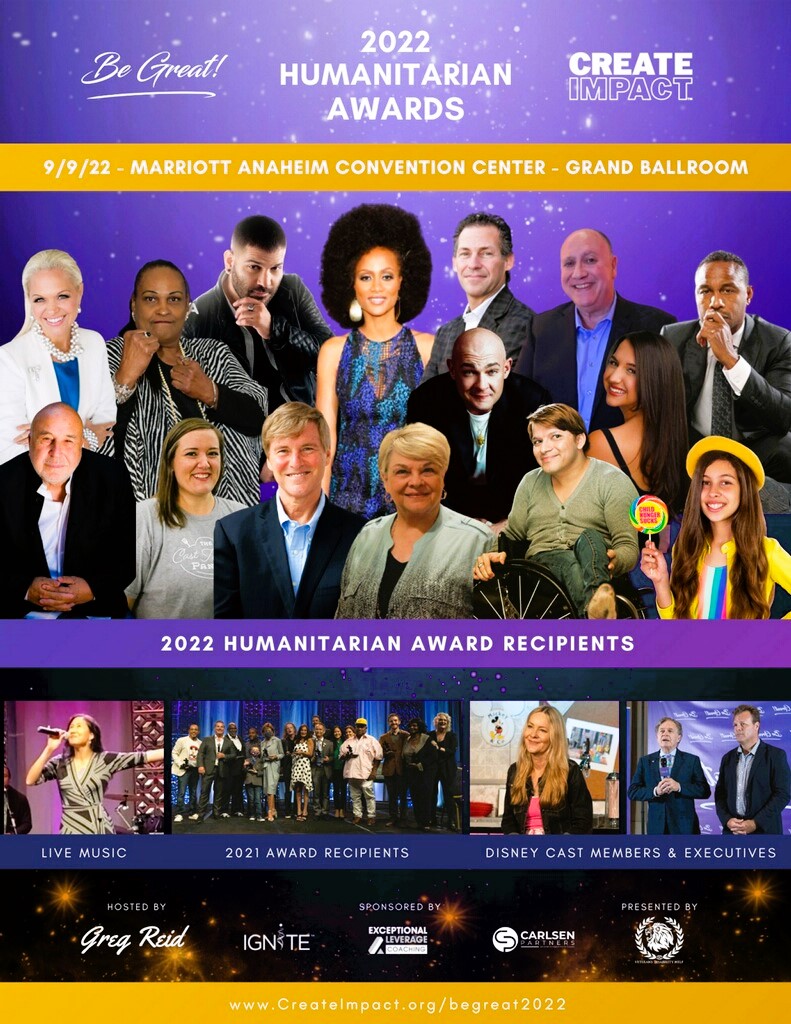 By Tom Chesser
Hosted on Friday, September 9th – Be Great! and Create Impact have teamed up to produce a magical one-day event dedicated to recognizing, honoring, and celebrating individuals and organizations who are advancing humanity and empowering the planet.
The 2022 Humanitarian Awards is being held in the Grand Ballroom of the Anaheim Marriott Convention Center, 700 West Convention Way, Anaheim, California 92802. The event is almost sold-out, but information and remaining tickets are available online at www.begreatshow.com.
The event is presented by Veteran's Disability Help and sponsored by Exceptional Leverage Coaching, G.O.A.T. Consulting Group, Ignite Publishing, Secret Knock, Access Technology Group, Iron Sharpens Iron, Always in the Club, Carlsen Partners, Symphony Environmental, Faust Innovations, The Legends Group, MMC'89, Saving Your Soul, Think Network, World Summit, and The Reptile Zoo.
This one-day nonprofit event begins with a powerful VIP reception featuring celebrities, complimentary champagne, drinks and food, red carpet interviews & photo-ops, interactive vendors, live art by Sergio Gutierrez, immersive activities, live music performances, and more.
Hosted by Dr. Greg S. Reid (Author, Speaker & Founder of Secret Knock), the awards ceremony begins at 7:45 PM by highlighting social impact campaigns, programs, and initiatives presented by Create Impact. The creative ceremony format includes a reunited cast of The 'All-New' Mickey Mouse Club with live music performances by En Vogue's Rhona Bennett, Tony Lucca (NBC's The Voice), The Party's Deedee Magno Hall & Chasen Hampton, and Lindsey Alley's hilarious multi-media show, "Blood, Sweat, and Mouseketears."
Carefully Selected From Over 200 Nominations, Be Great! Is Presenting 2022 Awards To:
Nika King (HBO's Euphoria & Founder of Rose of Sharon)
Guillermo Díaz (Cop Out & Scandal)
Leigh Steinberg (Founder of Steinberg Sports & Entertainment)
Dr. Khalilah Caomacho-Ali (Humanitarian/Author)
Karl Kani (Founder of Karl Kani)
Ever Matson (13-year-old Founder of Child Hunger Sucks)
Larry Namer (Founder of E! Entertainment)
Emily Lartigue (Founder of Cast Member Pantry)
Sir Alec Stern (Co-founder of Constant Contact)
Jade Zaroff (Founder of Entertainment For Change)
Gavin Keilly (Founder of GBK Brand Bar)
Eric Power (Founder/CEO of Veteran's Disability Help)
Dr. Cyndi Romine (Founder & President of Called To Rescue)
Andy Arias (Founder of DC Universal Pride)
Lady JB Owen (Founder of Ignite Humanity)
Incorporating both a live auction and silent auction – the fundraising portions will benefit Entertainment For Change™ (teaches young creatives how to be Impact Artists guided by the Global Goals), Canine Companions, Ltd. (provides service dogs that empower veterans with PTSD and children with an Autism Spectrum Disorder to live a life full of achievement and self-esteem), Cast Member Pantry (has provided groceries to over 10,000 people facing financial hardship throughout Southern California and Florida).
To best celebrate humanity, the ceremony wraps with an after-party featuring music from DJ Jimbo and a special live performance from Maty Noyes.
About Be Great!
Be Great! is a social impact-based production company that spotlights individuals, events, and organizations who are advancing humanity and empowering the planet. Be Great! produces a variety of awards, International community events, and media that inspires people to be great! Be Great!'s events help raise awareness and resources for important social impact initiatives, Be Great!'s awards honor and celebrate those who are creating a positive impact, and Be Great!'s media casts a spotlight on those who are creating solutions for social impact issues. To learn more about Be Great!, visit www.begreatshow.com.
About Create Impact
Create Impact is a 501(c)3 nonprofit organization. Fostering a culture of female leadership and founded by Rachel Carlsen CPA, its mission is to empower a Global Community of Nonprofits and Socially Conscious Entrepreneurs by acting as a Fiscal Sponsor and Trusted Partner for organizations of all sizes. Exemplified by its E.A.R.S. Program (Education, Awareness, Recognition, and Social Impact), Create Impact works to empower community development and entrepreneurial efforts while promoting UNDP's 17 Sustainable Development Goals for a better world by 2030. To learn more about Create Impact, visit them online at: www.CreateImpact.org.