Celebrating Women's History Month By Focusing On 9 Powerful Women Entrepreneurs Who Are Making This World A Better Place Today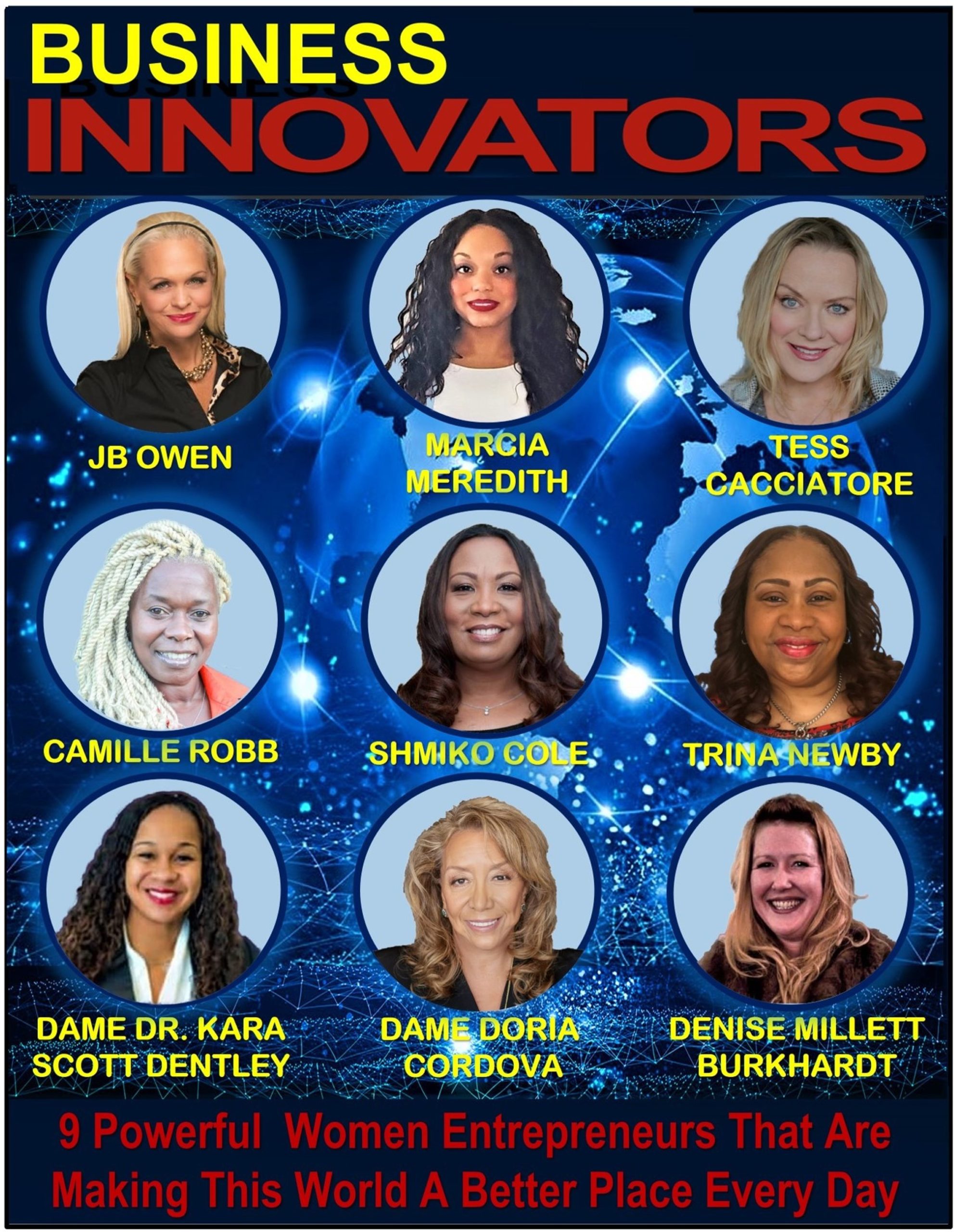 Women's History Month is a time to reflect on the courage of women in past generations and celebrate the efforts and bravery that now affords women the opportunities they have today.
Today, in celebration of Women's History Month, Business Innovators Magazine would like to recognize these 9 Successful Women Entrepreneurs that are helping to change the world and are focused on making a difference for all of us that live here. Here is a glimpse of what they have been doing to achieve this goal.
Here is a glimpse of what they have been doing to achieve this goal.
JB Owen, the Founder, and CEO of Ignite Publishing, a book publishing company she created in 2018, believed that stories bring people together and ignite moments. JB helps to transform writers into business owners by showing them how to become "Authorpreneurs" and ignite their business through authentic storytelling. Helping to create books that push us forward and strive for something more life-changing is the goal.
JB Owen is a fearless female leader and a believer in the power of empowerment. She is a world-class speaker, 17-time bestselling author, and powerful business owner. However, JB's true focus is on helping others, which is why she started Ignite Publishing, the leader in empowerment publishing, in 2018. Through Ignite, she has been raising money to build schools in Cambodia under the Ignite Possibilities School of Hope initiative.
She has recently expanded that initiative to include Homes for Hope, which raises funds to build homes in Indonesia for those in need. Part of her fundraising efforts includes cycling over 11,000km throughout Canada with the mission to raise awareness for the School of Hope and provide positivity and possibilities to those who need more inspiration in their lives. As Philanthropist.
In a recent article In Forbes Magazine, JB Owen, Founder and CEO of Ignite Publishing, shares how she built a Business that ignites lives and uplifts humanity. JB believes that "If you're not committed to your dreams, it is because you're not dreaming in a way that magnifies the dreams of others."
Marcia Meredith, CEO of Ros DiMere Inc, is definitely impacting our communities across the globe. Marcia has been impacting the success of businesses for nearly three decades in several countries, utilizing her financial and wealth management as her platform. Servicing corporations, municipalities, not-for-profit entities, sole proprietors, and private entities across all industries for an identified purpose -economic impact, growth, and expansion and maximizing earning potential through various suitable options, counsel, and guidance.
The next level of Ros DiMere Inc is going from wealth management to wealth literacy. Marcia aims to utilize media, investment opportunities, and literacy as her next go-to projects already in progress to teach and illustrate how to achieve and acquire wealth, while the most important aspect is how to keep it.
Marcia Meredith was nominated for the 2022 Small Businessperson of The Year Award in The Great State of Texas, presented by The U.S. Small Business Administration, and has been making a huge impact.
Meredith was recently featured in Business Innovators Magazine, "3 Reasons Why the SBA Turned Down Disaster Loans and How Marcia Meredith Got Them Overturn".
Marcia is a Louisiana native, and Texas-grown has been in the SBA space since the beginning of COVID-19, assisting her existing and new clients to navigate and manage their processes to sustain and stabilize their foundations during this pandemic in the government, public and private sector to date. As a first financial responder and advocate, has assisted more than 300 companies nationwide since COVID-19, including those that were declined to being overturned, including those that have been experiencing inequality from business name profiling.
In addition, Marcia has gotten global recognition for her work with small business owners to receive the maximum amount of money that they were legally entitled from the Paycheck Protection Program.
Tess Cacciatore is an Award-Winning Producer and philanthropist in the arena of entertainment, not-for-profit, and technology to transform lives through the power of storytelling.
Tess won the "Businesswoman of the Year" Award in 2020, as well as she has received numerous awards, including "Fete d' Geneve" at the United Nations (Geneva Switzerland).
Tess created and released the GWEN Alert App that won the Mobile Excellence Award for Social Awareness. GWEN Alert launched on Apple and Google Play with subscribers who download the app for FREE to ensure safety for all walks of life!
As the CEO/Founder of (GWEN) Global Women's Empowerment Network, Tess is a visionary, producing films, documentaries, television series, music, and more to inspire social change in the World, create impact, influence policy change, and assist in humanity.
The GWEN Studios production slate has been specifically chosen based on social influence, ability to influence inspiring ideas, and for momentum and success to continue productions that raise the human spirit.
Tess is also the co-creator/ director/ writer of a new original scripted series called "The Wright Turn."
Global Women's Empowerment Network is a 501c3 arm to GWEN Global. A portion of the proceeds will be donated to the charity for the use of Education, Empowerment, Entrepreneurship, and Socially Active programs and services. Tess has had international experience for 20+ years to create a successful partnership to inspire social change and to make a difference in the World.
Fabulous Camille Robb from Orlando, Florida, is the CEO of Just Fabulous Care, which provides a home away from home for students worldwide who want to learn English and experience the American culture—having 25 years of progressive hands-on experience caring for children of all ages, from newborns to adults. Camille has the ability to care for newborns, interact with toddlers, mentor a teenager and make the elderly smile all in one day. In addition, Just Fabulous Care possesses a proven track record of delivering professional services while engaging students in a wide variety of stimulating activities. Camille loves seeing the young people she serves through her give-back programs, services projects, and schools create new lives for themselves. She truly loves them all.