Red Deer Woman Cycles through Kindersley, Headed for Halifax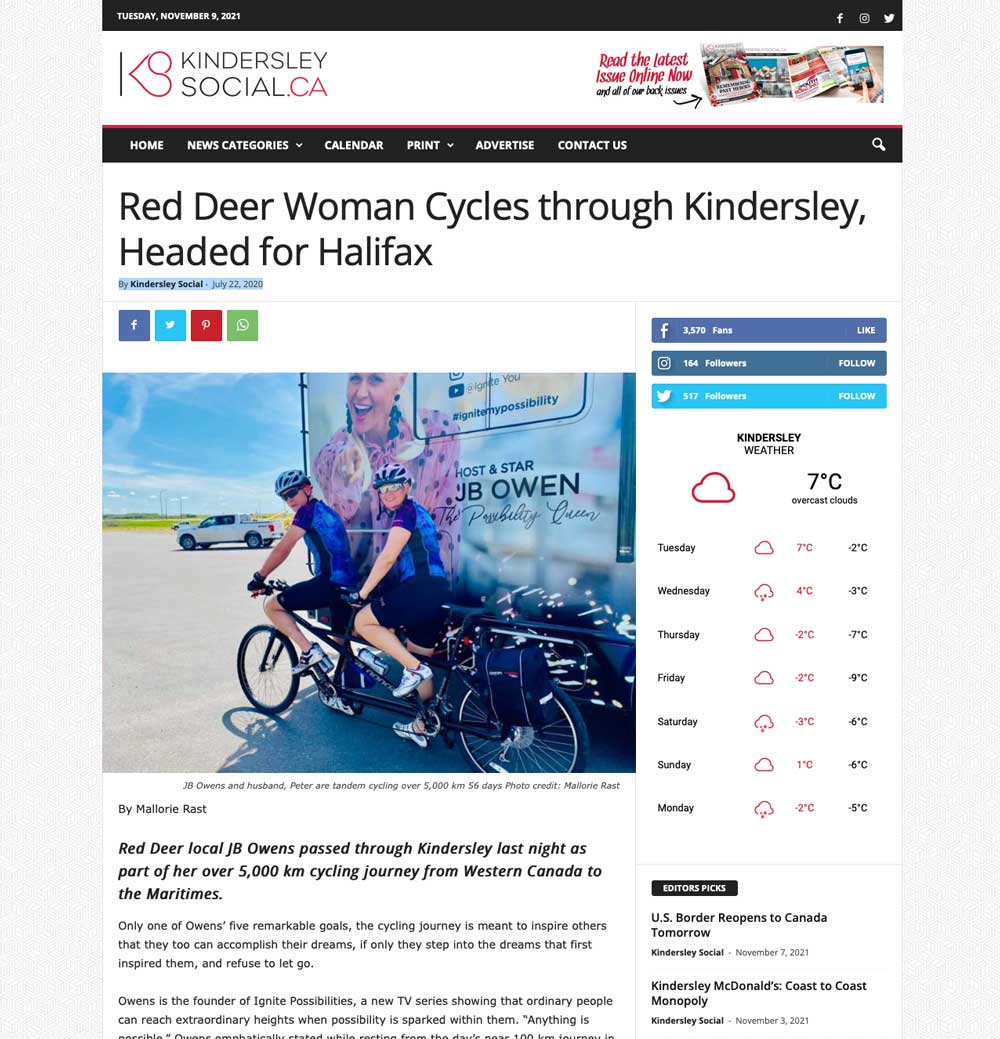 Red Deer local JB Owens passed through Kindersley last night as part of her over 5,000 km cycling journey from Western Canada to the Maritimes.
Only one of Owens' five remarkable goals, the cycling journey is meant to inspire others that they too can accomplish their dreams, if only they step into the dreams that first inspired them, and refuse to let go.
Owens is the founder of Ignite Possibilities, a new TV series showing that ordinary people can reach extraordinary heights when possibility is sparked within them. "Anything is possible," Owens emphatically stated while resting from the day's near 100 km journey in the Ignite Team's RV parked at the Kindersley parking lot. "The past several months have been hard on this world, and hard on its people. It's time somebody chases after their dreams and inspires others around them to do the same."
When Owens was 16, a dream to hit the cover of Vogue magazine was shattered by defeatist comments from model managers. "I was crushed, and accepted the fact that I had no ability to chase my dreams," Owens recalled. That memory has stuck with Owens, until after her recent 50th birthday, when she decided to no longer identify with defeat, but instead to pursue audacious goals and inspire those around her to do the same. "I decided to become the first everyday woman on the cover of Vogue magazine, at the age of 50!" Owens laughed as she said it, but her determination to make the goal happen is already evident.
In a bold move, Owens quipped "Cycling to Vogue," dubbed Vogue as "Victorious Outcomes Grow Under Effort," and is not only cycling 5,000 km in 56 days with no previous athletic training; she has also started a "50 Weeks To Me" challenge that anyone can join to remove negative thoughts and instead make a commitment to go after their dreams. Owens blogs about her goal marking-stones, and posts on challenge accepters on her Facebook page "Ignite Possibilities."
Owens is not making this journey alone, in addition to her 400+ followers on social media, her husband, Peter, is tandem cycling with her, and their "safety net" RV with the Ignite Team also includes her two daughters. "We are making this a family affair," Owens smiled, noting that her daughters are her best ignitors. "When I see them, and their generation, I think, someone needs to be a voice in their life, telling them that in the face of all these divisions, 'cant's' and 'don'ts,' there are words like 'potential' and 'possible.' Who is going to be that voice to their generation if we aren't?"
Owens is partnering with The Sunshine Foundation of Canada to raise awareness, funds, and possibilities for children with special needs who also need to realize their dreams. Team Ignite is looking for sponsors to fund $100/100 km in order to help them reach their goal in making a difference. You can visit their team page on sunshine.ca, or use the direct link here: http://sfoc.convio.net/site/TR/DIYCampaign/General?team_id=2013&pg=team&fr_id=1190