Red Deerians return from tandem bike ride across Canada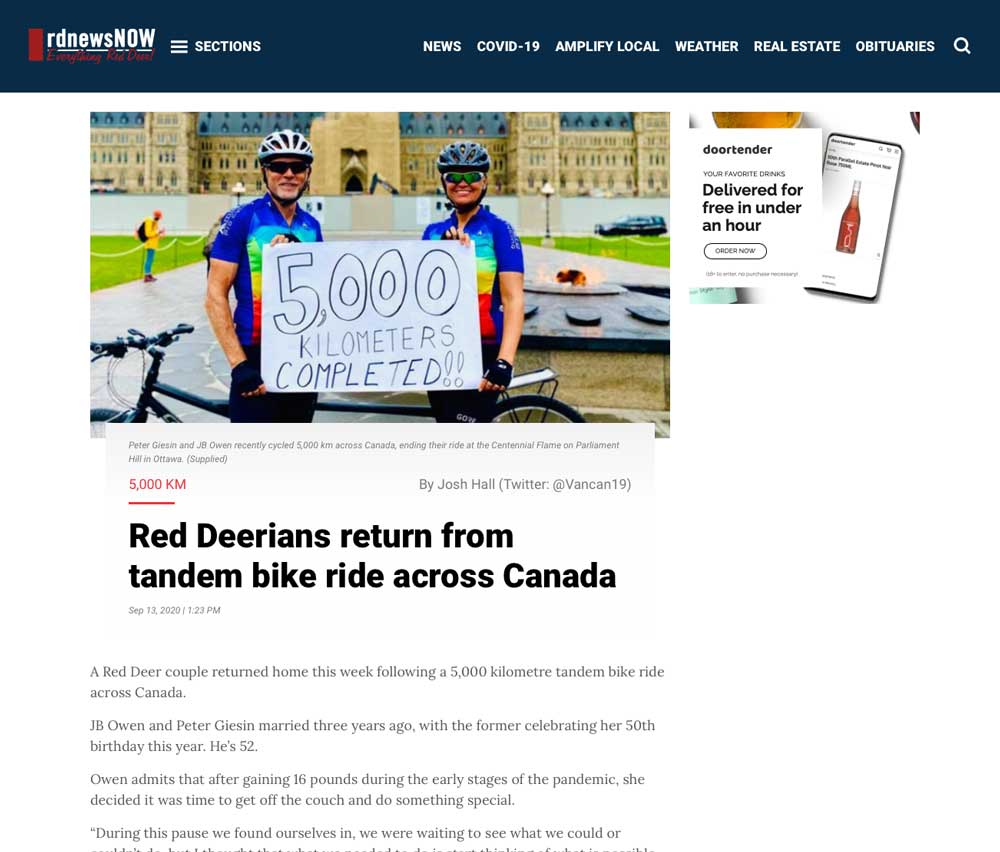 A Red Deer couple returned home this week following a 5,000 kilometre tandem bike ride across Canada.
JB Owen and Peter Giesin married three years ago, with the former celebrating her 50th birthday this year. He's 52.
Owen admits that after gaining 16 pounds during the early stages of the pandemic, she decided it was time to get off the couch and do something special.
"During this pause we found ourselves in, we were waiting to see what we could or couldn't do, but I thought that what we needed to do is start thinking of what is possible, and what we were capable of. That inspired me to do something exceptional," says Owen.
"I've never been an athlete, never cycled before competitively — I'm the opposite of an athlete. So this was a personal challenge to show people you don't have to have experience or know the directions to get across the country; you just need the willingness."
The pair set off from Red Deer on July 17, riding on 44 days since then, and between 100 to 200 kilometres daily. The task took up to seven hours each day.
From their home, they cycled east to northern Quebec, were turned away at New Brunswick due to pandemic restrictions, and then headed to Montreal and Ottawa before driving most of the way back.
In the nation's capital is where Owen points to the highlight of their adventure.
"They had an open mic on Parliament Hill, so I had a chance and the real privilege to speak, and I was thrilled to be able to say to people that they should lead by example, live life to the best of your ability, and show your children what's possible so we can move humanity forward," she shares.
"Canada is such an incredible country and was amazing to see, and the people in both small towns and huge cities gave us so much support. We had a flat tire in Quebec and the garage we went to for repairs didn't even charge us."
Owen and Giesin partnered with and raised money throughout their ride for The Sunshine Foundation of Canada, an organization which provides dream experiences to kids aged 7-17 living with severe physical disabilities.
They've also partnered with a producer and director on a pilot for a TV show based on their trip and endeavours they hope to achieve in the future. They're hoping to pitch the show — called 'Ignite Possibilities' — to Netflix and Amazon Prime.
"We are in this time in the world where we really have to think about what's possible," Owen concludes. "Peace is possible, inclusion is possible, and there are so many other things we can focus on in terms of what's possible instead of what's not."